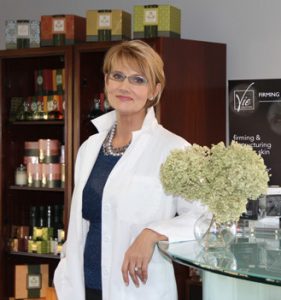 A native of Poland, Krystyna Ejsmont emigrated in 1985 to Michigan with her family in search of a better life. When she arrived in America, she had only $200 and a dream: to open her own European-style spa.
Krystyna and her family embraced the American way of life and lost no time making her mark. After arriving in Detroit, she took English and accounting classes and worked for a time as a bookkeeper. Never losing sight of her goals, a few years later she found work at a Birmingham spa where she quickly became one of the city's most sought-after aestheticians.
After years of hard work, Krystyna established Krystyna's European Spa in 2001, realizing her ambition to create a peaceful retreat which combines aesthetic treatments with health and relaxation therapy. She continues the great tradition of European spas in America by offering her clients the best products and treatment technology from around the world.
Krystyna attributes her success to her ability to nurture relationships, capacity to give and accept wise counsel, formidable work ethic, and relentless quest for perfection. She stays in shape by eating well and practicing yoga several times a week. Krystyna relaxes by cooking, gardening, reading, and spending time with her daughters.